All in One solar garden light adopts the long life Lithium battery for storing energy. For street light use, security light use, garden light use, road light use,
path light use, parking lot light use, highway light use, park light use, gate light use and so on.
Installation Steps
Step 1: Fasten the solar panel to the support arm with screws and nuts.
Step 2: Fix the lamp onto the wall using setscrews or fix it on the lamp pole using hose clamps.
Angle Adjustment
The solar panel can be adjusted 200 degrees up and down and 240 degrees left and right according to local longitude and latitude and different directions the solar lamp faces, so as to receive sunlight in the maximum receiving surface for the longest time.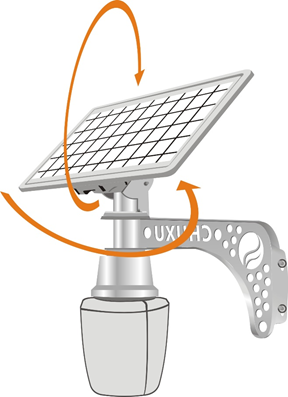 Product Parameters

Pictures: