Dear All, glad to share a good news to you, our Mini Star Laser Light are selling very well. we strongly recommend you to have a look.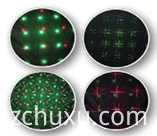 This Laser Light has Red and green dual color, it has brilliant color projection effect. total eight kinds of working mode adjustable, It can be used in different places. It also has speed regulating function, the lighting flash speed can be adjusted.the flash can with the music rhythm increase the change and movement. Suitable for nightclub, bars, wedding, park, family Party, KTV, dance halls and so on.
Please take a look at its parameters as follow:

• R+G star light
• More than 5000 points of light
• 8 different patterns
• Rotatable flicker
• Mode:
Ø Auto (Red, Green)
Ø Flash
Ø Red
Ø Green
Ø Auto (Color change)
Ø Music 1 (Strobe)
Ø Music 2 (Color change)
• Green laser: 30mW 532nm
• Red laser: 100mW 650 nm
• Input: AC 110 – 240V/50-60Hz
• Output: DC 5V/1A – 1.5A
Package Content:
• Mini Laser Star Light
• Tripod
• EU Adaptor
• User Manual
• Remote
Hope they are workable for your market, please let me know if you have any question.
Contact: Claire Tam

Email: sales03@szchuxu.com Website: www.szchuxu.com
H.K. OUGUAN ELECTRONICS TECH CO,.LTD
SHENZHEN CHUXU NEW ENERGY TECH CO.,LTD
Address: 3F/B Block Jinlaiwang Industrial Park, Guihua Jiayi Industrial Area, DaPing Community